A Veteran Success Story with Don Snyder
My name is Don Snyder, and I've been in the workforce for about 20 to 25 years doing all sorts of things.
Most recently, I spent a 7-year stint in the mortgage industry, which was helpful for me to understand the direction I wanted to take with my career. It wasn't the mortgage industry.

I've since returned to school. Right now, I'm in the process of earning my bachelor's degree in Business Administration and Management then pursuing my master's in Business Analytics.

I found Divergence Academy through the VET TEC program which the VA offers to veterans. Going through the program was my basis in technology & information, which will help with my transition into business analytics.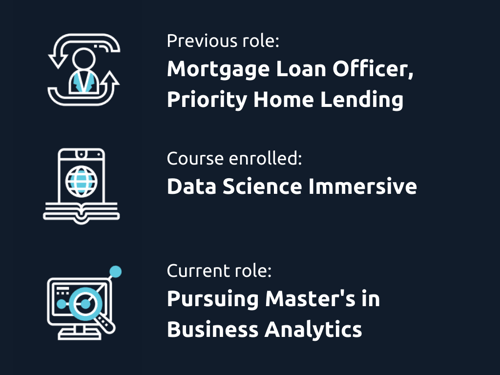 I was in the army for six years as a combat medic, a member of the infantry, and then a recruiter.
I consider myself a professional competitor. That started once I got into basic training and continued after I was assigned to my unit.

Because of that propensity for competition, I was able to move around a lot during my service. I did a year in Iraq. Other than that, everything's been domestic. I spent most of my time in Oregon.
The vetting process that I used to evaluate my different options for schooling came down to knowing that I wanted to work in the data science realm.
There aren't a whole lot of VET TEC training providers that offer data science courses. That helped to shortlist Divergence Academy. From there, I conducted a lot of online research.
I wanted to know: What does the criteria for entry look like? What does the curriculum look like? What am I going to learn from this and take out into the world? And critically, what are other people saying about their time with this organization?
Ultimately, it wasn't only the good things I found people saying about Divergence Academy that drew me. It was the lack of bad things.
In my vetting process, I've always found the lack of criticism to be a really important element. If there's one thing we know [about human nature], it's that when we're unhappy, we like to complain. If nobody's complaining, it must not be bad.
My decision to enroll in Divergence's Data Science Immersive course was really about getting as much hands-on experience as I could, as quickly as I could.
I intend to obtain my Master's degree in Business Analytics, which requires a strong background in data science and IT in general. My thought process in choosing Divergence was that this school would position me really well—for my future career as well as my educational ambitions.
As a learner at Divergence, my experience was a lot of fun. I had a great time and learned an incredible amount of information. It did feel a bit like advanced training in the military, where you've got only a short period of time to absorb a tremendous amount of information that you're expected to utilize in a practical way at the end of training.
Entering this whole new realm of information that I was completely unfamiliar with was challenging.
I come from a very non-technical background—I've never written a line of code in my life. I didn't know what the Microsoft Power platform was, or how it could be used. But at the same time, I feel that the level of education I received and the level of individualized care from each one of the instructors really made [the not knowing] a manageable process.
It wasn't easy, but I never felt like I was going to fall behind, or that I was not going to be able to complete the course. At every turn, we had an opportunity to stop and ask the instructor the necessary questions to make sure we were moving at the same pace as the rest of our class.
That was incredibly valuable and helped me feel a lot of security throughout this process where, otherwise, I could have been just a nervous wreck, because it's all so new for me.
One of the strategies that really helped me succeed in this program was diligent note taking and being open to other resources.
If I was struggling with a concept, I would notate it and review the recorded lecture later that day. I would take a look at the books and see if I could better understand what the material was saying on my own time. I also looked to platforms like YouTube to see who else had an explanation for the concept I was having trouble grasping.
It's important to find as many as four to five different resources on a concept so that you better understand what it's all about. Doing just that was a pretty important technique for my success. Because while the instructors were fantastic, there were some things I just didn't get right away.


I'm really glad that Divergence is a technology-forward schoolhouse.
Prior to starting with Divergence, I was in a university-setting where it was my instructors' first time using Microsoft Teams to distribute information and hold classroom sessions. That was beyond challenging; and naturally, what was challenging for them as instructors became challenging for us as students.
Divergence was an entirely different ballgame. All of our instructors and co-learners were well-versed in technology and really comfortable with being on these virtual platforms.
Ultimately, I think that these platforms better prepare us than an in-person classroom environment can. We're working in the digital age and we're working with technology, so these things can be done cross-country, round-the-clock, or across the globe from each other.
[Utilizing these learning and communication platforms] gave us a good basis of experience for both working and learning remotely. Ultimately, I think that Divergence as an organization and all the instructors did a great job of adapting to the online learning environment.
The biggest takeaway from Divergence is this feeling of confidence.
It's not necessarily about knowing how to use a specific tool in a specific scenario to accomplish a task. Because everywhere you go, [companies and organizations are] going to have different tools that they want you to work with and different programming languages that you're maybe not fluent or even familiar with.
What's really important is understanding the concepts of how we work with data to achieve outcomes. It's about asking: how do we work with this information in order to provide actionable insights to our clients or employers?
The education I got from Divergence gave me confidence to go out into the workplace. Even if I'm not well-versed in a specific language, I can go out and learn quickly, because that's just syntax.
What I have now that I can take with me, everywhere I go, is the ability to think about data and to think about processes in a way that can create a positive impact.