Leveraging a Cybersecurity Bootcamp to Launch a Career in Tech
According to an article by Business Insider, the top 10 industries that show the most potential for growth in 2022 include several sectors that involve emerging tech. Job titles that are most likely to see growth in demand this year include cybersecurity specialists, robotics engineers, AI specialists, and data scientists—each of which often comes with a six-figure salary.
It's no coincidence that tech and fintech companies are often touted as some of the best companies to work for year after year. With an impressive rate of industry growth, a rewarding pay grade, and a vast diversity of jobs, the emerging tech sector needs to fill a demand for individuals with strong work ethics and technical skills.
Given all that, who could fill that demand? The short answer: Veterans and soon-to-be transitioning service members.
Why Veterans Thrive in Emerging Tech


Whether you're a Veteran or soon-to-be transitioning service member, you already have the soft and technical skills that employers are looking for. The military trained you to have strong work ethics, leadership skills, and an unwavering commitment to completing tasks.
A number of these skills are transferable in the tech industry. All that's left for you to do is get your foot in the door of emerging tech—and a great way to do that is by leveraging cybersecurity bootcamps.
A Quick Primer on Cybersecurity Bootcamps
Cybersecurity bootcamps are training programs that equip you with everything you need to land meaningful employment in emerging tech. These programs are concentrated, enabling you to earn industry certificates faster than taking undergraduate and graduate programs.
A typical cybersecurity bootcamp is often completed within 12–14 weeks—and these can be delivered in various formats including online, in-person, and hybrid. At Divergence Academy we offer 4-weekends, 10-week, and 20-week cohorts facilitated by industry practitioners.
Given the timeframe, bootcamps often feel fast-paced and intense. However, because your learning is concentrated, this means that they are effective at equipping students with fundamental IT and practical industry skills.
Often, these bootcamps are designed around preparing you for cybersecurity and networking certification exams. For example, Divergence offers a cybersecurity curriculum designed around CompTIA certifications, which is split into three modules. The first one introduces you to IT, particularly with Server+, Linux+, and Cloud+. After that, the second module prepares you for your Network+ certification. And lastly, the third module covers Security+ and PenTest+.
By the end of a cybersecurity bootcamp, Veterans should be able to identify, prevent, and resolve cybersecurity incidents and corporate data breaches. After completing the program, you can start working as a cybersecurity pentester, risk management specialist, and more.
In a recent Q&A with Course Report, Divergence Alumni Thomas Casey shared his story to help fellow Veterans get a better idea of how bootcamps can work for them.
Taking the Leap: How a Service Member Transitioned Into Tech
Thomas Casey served as a Bulk Fuel Specialist and Explosive Ordnance Disposal (EOD) Tech for the Marine Corps. After leaving the military, he had to go through what all Veterans experience—the transition into civilian life. While this process can be daunting for most transitioning service members, Thomas saw it as an exciting new chapter in his career.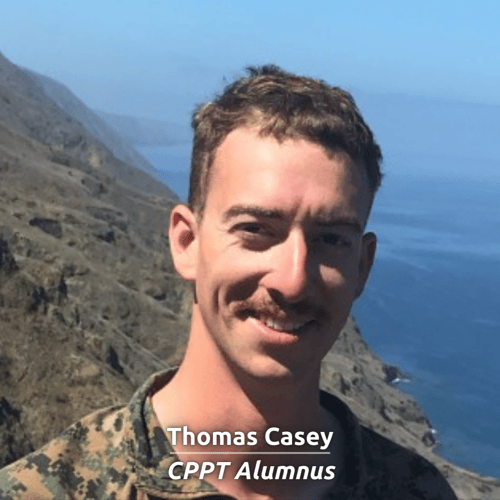 "I wanted to find meaningful, marketable work that would interest, intrigue, and challenge me," Thomas recalls.
That is why although he finished a college degree in mechanical engineering, Thomas decided to take the leap into an entirely different field—cybersecurity. He soon realized that his background as an EOD Tech lent itself to cybersecurity, which required both critical thinking and problem-solving skills.
Making Your Education Benefits Work for You
A typical cybersecurity bootcamp or program costs around 3K–20K USD—whereas a cybersecurity degree may cost anywhere between 23K and 61K USD. While that may seem like a huge amount of funds to earmark for your education in the middle of your transition, there are many ways to get around it.
In Thomas' case, he got his GI benefits to work for him. He started looking for VET TEC training providers that offered cybersecurity bootcamps. After some research, he found the Cybersecurity Professional Penetration Tester program through Divergence Academy.
Like Thomas, you can put your GI benefits to work. There are several funding options available for Veteran career training programs including:
After World War II, the federal government enacted the GI Bill to provide financial and social benefits to Veterans. Today, this program helps active service members and honorably discharged Veterans pursue higher education.
Rolled out in April 2019 by the Department of Veterans Affairs, VET TEC or the Veteran Employment Through Technology Education Courses is designed to fast-track the education experience and help Veterans get into high-tech careers.
The Veteran Rapid Retraining Assistance Program gives veterans access to education and training for high-demand industries. VRRAP specifically caters to veterans who are unemployed because of the COVID-19 pandemic.
The VET TEC Advantage
To gain more insight into our students, we reached out to Divergence Student Success Advisors Albert Feliciano, Kingsley Scott Jr., and Tony Preston. During our sit-down, one observation they shared was that learners in weekend classes often have to juggle work and other commitments. Meanwhile, weekday learners usually work night shifts to support their studies.
VET TEC helps by covering tuition for a full-time high-tech training program while also providing funds for housing. That's why, when Thomas Casey researched his own funding options, he concluded that VET TEC was his best bet.
As a VET TEC preferred provider, he knew that Divergence Academy effectively had a stake in his well-being. "A benefit of using VET TEC is that it offered me the freedom to focus on my studies. I didn't have to work while [I was] in the bootcamp," Thomas said.
Aside from that, the GI Bill uses a lot of education benefits, which is measured in time. Since Thomas planned to utilize his GI Bill time for a Bachelor's Degree, and VET TEC doesn't consume GI Bill benefits, VET TEC seemed the right choice.
Before going to Divergence, Thomas planned to finish his Mechanical Engineering degree. But after joining a bootcamp, he's now thinking whether he should switch his major to cybersecurity.
The Divergence Academy Experience
As one of VET TEC's Preferred Service Providers, Divergence Academy aims to ensure our students land jobs within six months of graduating—through dedicated career readiness and assistance services.
To Thomas, this demonstrated a huge vote of confidence in Divergence's ability to deliver on meaningful results. "With an impressively high job placement success rating, they are not afraid to put their money where their mouth is."
It also helps that Divergence has extensive employer connections throughout the United States, which Thomas viewed as an avenue to elevate his career opportunities.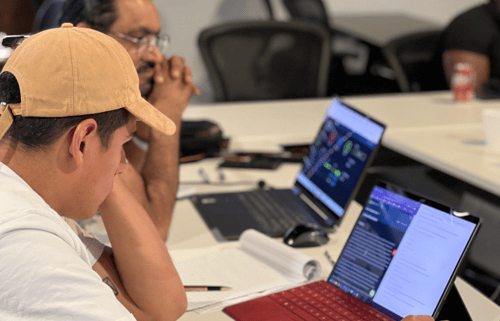 Adapting to the Remote Learning Experience
In 2020, schools worldwide needed to address social distancing measures. Divergence tackled this challenge head-on by implementing changes to better support our learners. Processes across the board were refined to accommodate individual needs and learning preferences; such as the delivery of learning kits straight to students' doorsteps.
For students like Thomas, the classroom experience was wholly remote and online. "Bootcamp and college have their similarities and differences. They're similar in the sense of lectures and the necessity of note-taking to retain the information. The main difference is in the structure of the curriculum."
Through a hybrid teaching model leveraging online communication tools such as MS Teams, Thomas and his cohort met from 9 AM–6 PM CT with synchronous instruction followed by group labs.
"The curriculum structure at Divergence Academy is more similar to how I was taught in the military, which mirrored the immediate application of the content. We cover a topic in a lecture and then have a lab immediately after while the information is still fresh."
Despite attending class remotely, the online setup fosters an atmosphere emulating a real-life classroom, encouraging students to take charge of their education. For someone already used to an online learning environment, Thomas shared that he had no trouble adjusting to the teaching model used at Divergence.
"I love learning online, because it offers me the flexibility to take care of my child as a single parent," the veteran shared. "I can drop my daughter off at school and pick her up when I need to. Plus, with recorded lectures I can re-watch anything I missed or need to revisit after class."
How Divergence's Cybersecurity Bootcamps Get You Job-Ready
The ultimate promise Divergence makes to each of our students is career readiness for meaningful employment. The philosophy behind this is that exposure to real work encourages real learning and leads to real jobs, which is why job readiness is folded into the curriculum.
In Thomas' case, he was able to leverage adjacent services offered by Divergence Academy. These departments cover skills not typically covered by other schools.
"We had 2-3 weekly workshops on topics including resume writing, targeting resumes for specific jobs, how to optimize your LinkedIn profile, how to navigate job search engines, and more." Thomas continues, "I hated writing resumes before this experience, but now I feel like I can write one pretty well."
In addition, Divergence Academy also hosts Industry Day Lunch&Learns—events that allow representatives from different companies in our Preferred Employer Network to speak, interact, and even hire learners.
To this, Thomas says: "Divergence offers all the support you could possibly need in your job search. I didn't believe it until I started the course." And when asked about the impact of the workshops and networking events on his overall experience, he shared: "I feel confident enough to start looking for jobs because of these workshops."
Making the Most Out of the Divergence Academy Experience
There's no way to get around it—cybersecurity bootcamps are intense. However, they offer a gold mine of opportunities to learn invaluable skills that can help you thrive in emerging tech.
In a short span of time, you learn the ins-and-outs of IT, build a strong professional network, and discover ways to make the job search easier. Throughout the bootcamp and beyond, all that's asked of you is to take charge of your education to make the most out of the experience.
Finally, when asked to give future Divergence learners advice, Thomas had this to say: "My biggest piece of advice would be just to get ready because this bootcamp is definitely challenging. 'Come correct' every day, and ask questions."
Let's be clear: cybersecurity bootcamps are not easy. But when you complete one and land a job in a highly rewarding industry such as emerging tech, the entire journey will have definitely been worth it.
"If for some reason I wake up one day and decide cybersecurity is not for me, I still learned a lot about resume writing and applying for jobs in general, so it's already worth it for me," Thomas said.
Setting You Up for Success
At Divergence Academy, we take pride in helping our veterans and transitioning service members land meaningful employment in emerging tech.
From various career workshops that teach you invaluable skills to Lunch&Learns that connect you with industry leaders, we leverage every resource available to set you up for success.