A Veteran Success Story with Joseph Dwyer-Kiley
I am always looking for the next great adventure, big or small. I rarely ever say no to an opportunity.
I grew up in Oxford, Massachusetts with a fairly typical family upbringing. My three younger siblings and I were raised by our mom who was a single parent; and I went to a trade school for high school where I studied metal fabrication and welding. At 17, I enlisted with the National Guard.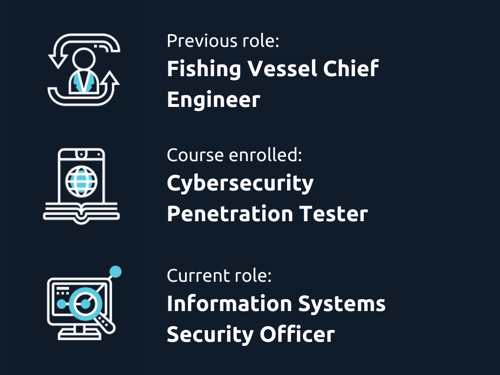 I've always liked working. When I was 12 or 13, I cashed in some savings bonds to buy a lawn mower to make some money, and then I got a job at Dunkin' Donuts. From there, I took an opportunity my high school provided where their co-op program allowed me to work every other week instead of going to school. I worked 40 hours every other week when I was like 16. And after that, I went to basic training.
When I got accepted at Divergence, I saw it as a chance to explore a new area. I'd never been in Texas before, beyond Fort Hood, which is another military base. And after I'd learned about Divergence, I thought to myself that I'd always wanted to go on a cross-country trip.
So I bought a motorcycle and spent four days driving it down to Texas from North Oxford, Massachusetts.
Out of all the programs I researched, I chose to go with Divergence for two reasons:
1) They're a preferred school under VET TEC.
2) I wanted to make sure that I would get a thorough experience with as much knowledge as I could possibly consume.
Like other veterans in Divergence's alumni community, I heard about them through the VET TEC program on the VA website. As a VET TEC preferred school, this means that the VA pays 50% of tuition to Divergence Academy throughout your 10 weeks there and Divergence can't collect the other 50% until you find meaningful employment in that field.
I've heard horror stories of other boot camp type training programs that chew you up, spit you out, and then expect you to do stuff. In cases like those, if you didn't have time to grasp the concepts while you were at the boot camp, then you're kind of left out in the rain.
Knowing that Divergence had this deal with VET TEC gave me some assurance that these people were out to do their best to help me find a job in my chosen field; which is the ultimate goal.
The second reason is that I was looking for the longest training program out of the bunch. Divergence is either the longest or tied for the longest at 400 hours. Since time wasn't an issue for me, I wanted to make sure that I had a thorough experience with as much knowledge as I could possibly consume.
There are a few things I need to have in order to feel fulfilled in a career. Mental stimulation is a big one.
I need to have something that stimulates me mentally. I'm a big fan of strategy games—I've played chess for a long time, and games like Risk, Jeopardy, Wheel of Fortune. One of the things I read about regarding ethical hacking and most of the cybersecurity field is that you need to have an analytical mind. You need to enjoy that sort of thing and enjoy thinking critically every day. That's the kind of mental stimulation that I was looking for in a job. I need that, or else I feel like I'm just wasting away.
Divergence's Cybersecurity Penetration Tester program was great, fulfilling, and also, at times, overwhelming. I love learning new things and at Divergence, you're kept at a certain pace. That's good, because I feel that if you have too many long periods where you're not working in a certain area—especially in an area that's new to you—you'll tend to lose a little bit of what you learn.
Some people in my class had prior knowledge about this industry. I did not. The most I've ever done was put a computer together. So it goes without saying, going through the program was like drinking water from a fire hose. Thankfully, the instructors were incredibly supportive. When there were certain things I didn't quite understand, I would reach out after class and they were more than willing to explain things in a different way. Having that sense of support from the instructors AND from my cohort, paved the way for epiphanies where some new concept we were working on would, all of a sudden, click. It's a great feeling, because I would struggle and then it would all just make sense.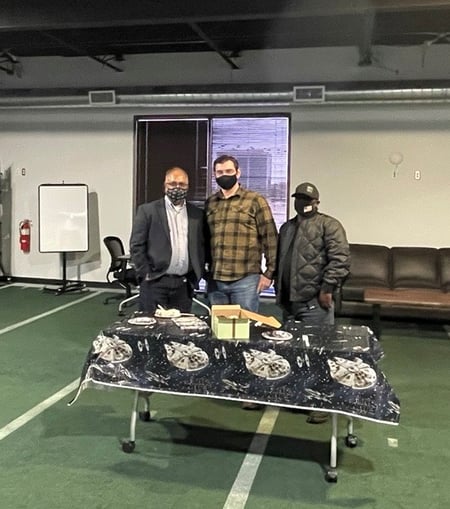 The support I received from my peers and the staff was invaluable.
I grew close to Tony, another cyber student, while we were both going through this course. We shared the same hotel, and whenever either of us felt overwhelmed we would talk, because it can be hard to comprehend so much new information all at once. But if you have someone to talk to, it becomes a lot less intimidating and a lot more feasible.
Truthfully, everything is feasible. There's nothing you can't do with the right mindset in place. But it can be hard to keep that mindset sometimes when you're flooded with information. Being able to turn to my colleagues, who I grew very close to throughout the course, and feeling the support from the staff at Divergence helped me through.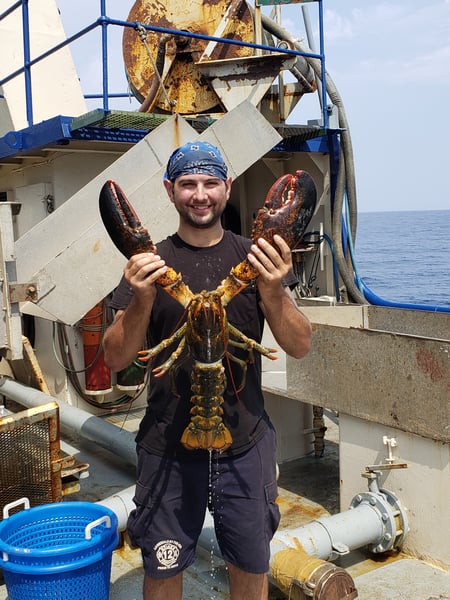 Divergence changed my life and gave me the opportunity to pursue a completely different career field.
Prior to coming to Texas to do the Divergence course, I was a chief engineer on a fishing boat. It was a great job but a very stressful career. I was also under a lot of stress brought on by different factors and I wasn't in a great place mentally. Hopping around from job to job for a long time, I couldn't seem to find something that satisfied me. But I knew I needed to figure out what I wanted to do.
Learning about VET TEC and then coming to Divergence as a result was great. I could afford to live while I was learning new things, and it felt good to learn all these new ideas, concepts, and things that I've always been interested in. I never had the motivation to actually dive into this independently, so having the support structure for this course was very helpful.
Now, I feel like I'm in a great place. I have accomplished personal goals. I feel like I'm really going places, and I have big plans for the future.
One goal I set for myself at the beginning of the program was to have a job lined up for myself at graduation. I don't like waiting around.
I reached out to Dauphne from Career Services and a member from the LinkedIn Divergence Academy Alumni group. One of the alumni hooked me up with a hiring manager from his company. I landed an interview and was offered a job with CSIOS Corp before I even finished the program. The offer was for a cybersecurity analyst role, but it was contingent on me acquiring two specific certifications. One was Security+ or equivalent, which I passed. The other was CompTIA's Pentest+ which is more advanced.
I actually did not pass the last one on my first try. But the HR Manager said that if I was able to get that certification prior to the contract start date, they still wanted to hire me. I decided I was going to study my arse off and try to get that certification. If someone offers you a job as a cybersecurity analyst after a 3-month course, after you've been catching squid off the coast of New Bedford, Massachusetts for 16 months, you don't want to pass that up. And I did end up getting the certification three weeks later.
Now I'm just waiting for the contract to be finalized. It's very exciting! Honestly, if it wasn't for making the connections via LinkedIn and the Divergence Alumni page, I probably wouldn't have gotten the offer.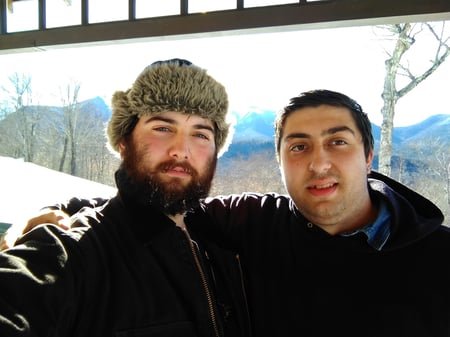 My tip for future learners? Look for the biggest takeaway that you can get.
You're not meant to remember the material from this class word for word. No one's going to care if you can recite things from a book. It's better to understand the concepts enough so you can think through similar situations in the future. This allows you to solve problems on your own using the knowledge you've gained.
Some people set an expectation for themselves that they need to attain everything. In my eyes, that's an unrealistic goal. It's a great goal—but if it's more of an expectation than a goal, then you're going to stress yourself out.
Instead, build yourself up with small victories. That will give you the momentum for learning and help build the confidence that you can learn other things that are completely new. The way the program is structured is great—starting the course with Server+ allowed me to build those small victories, because the concepts were easier to grasp.
Lean on your peers. Find study strategies that will work for you. And whatever stress, frustration, or feelings of overwhelm, just push through it and take a breather. If you really want to succeed, you can and you will. But you have to want this and you need to definitely pay attention in class. Speak up, ask questions, and stay engaged, so you don't fall behind. Be active and have conversations that might help you or other people understand difficult concepts.