A Veteran Success Story with Zooey Nguyen
My name is Zooey Nguyen, and I was an Aircraft Maintenance Technician in the US Army.

I grew up in a rural farming area of Vietnam, and life was not easy. So, my parents would often encourage my brother and me to be diligent in our studies. They didn't want us to experience the hardships they went through during the war, which barred their access to education. That's why our parents worked hard to send us to school. They inspired us to pursue a career that would set us up for a more comfortable life.

When I came to America, I immediately started looking for employment to help my family. I landed a job in the oil industry, which was fortunate since I had experience in that field. After a few years, I decided to transition into the aviation industry—which brought me to the U.S. Army. During my stay in the military, I developed invaluable skills as a mechanic in the aviation field.


I was about to transition out of the army when opportunity came knocking at my door.


I was going over a military briefing and I stumbled upon information about Divergence Academy. Reading about what Divergence does for veterans, I decided to put my name down on the list of people interested in an IT career.
I have always been interested in Information Technology, but I never got the chance to really pursue it. Meanwhile, my brothers, cousin, and friends were already in the IT field. They always talked about their careers, and their stories never failed to amaze me. So, they got me thinking about what I wanted to do for the rest of my life when I finally transitioned out of the army—pursuing a thriving career in IT was my answer.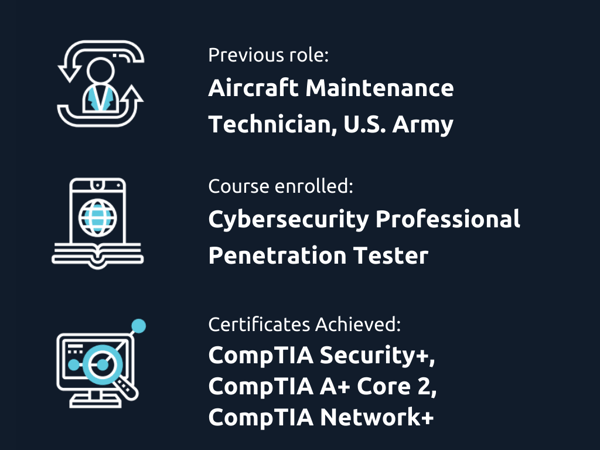 I didn't have any background or experience in IT.
Even with no base knowledge about the field, I still wanted to pursue my dream. So, I reached out to Divergence, and Beth guided me through which cybersecurity course would best fit me. From there, my interest in the field kept growing and I tried my best to learn something new every day. It amazes me how Divergence enabled me to transition from an engineering job to a budding IT career. So far, it has been a huge challenge but the experience has been nothing short of fantastic.

The instructors are not exaggerating when they say "learning is like drinking from a firehose." But, if you are really determined to achieve your goals, you should take that firehose and drink as much as you can. Every day, I spend four hours in class focusing on the lessons being taught. After class, I take short breaks and continue studying. When I feel stumped, I talk to my friends, coworkers, and my cousin for advice.
The start of my transition into IT was challenging.

At first, I had a lot of worries and frustration. Not knowing what was ahead of me felt terrifying. Luckily, I had a lot of support going into this journey. My military advisor, counselor, and the Divergence staff were extremely helpful every step of the way.

The counselor gave me a brochure of the Cybersecurity Professional Penetration Tester course, and it piqued my interest right away. I know Divergence offers other courses in data science and cloud computing. However, I saw CPPT as a foundational program that allowed me to go from beginner level and eventually build up from there.
My instructors are great at keeping the class fun and interactive.

Each of my instructors at Divergence has a lot of character. They all had a fantastic way of making typically dry and boring topics fun and engaging. One of my instructors doesn't even rely on textbooks. Instead, he shares industry knowledge, which he gained from 30 years of working in the field.
The most exciting part of my course is the practical application of hacking skills.

Pentesting was the culmination of everything that I wanted to learn prior to studying at Divergence. When I finally got to apply everything I learned up to that point in the program, I fully realized how expansive this industry is and how many niche roles and different job titles there are. I realized that a lot of doors opened for me.
The most challenging aspect of the program for me was time management.

When I transitioned out of the military and into civilian life, I had to adapt to a different lifestyle and mindset. At the same time, I was pursuing a new career, going to the gym, processing my experience, and taking classes. With all of this happening all at once, I felt overwhelmed because I could barely manage my time.

I quickly realized that what I needed was time management. I learned that keeping track of my schedule through a calendar would be a good way to manage my time. When I start feeling overwhelmed, I try to seek advice and support. Taking multiple small breaks to refresh my mind helped as well.
After completing the course, I felt validated—that I made the right choice.

I'm glad I decided to start my IT career with Divergence. I would happily do it all over again. I wish I could start from the first day of class knowing everything I learned from the course.
The whole experience gave me a thirst for knowledge. The way I see it, Divergence gave me a strong foundation, and I have to commit myself to continuous learning to build from there. So, I took more courses after graduation.
Learning is a continuous process. Once you start studying, you become a learner for life. Even after graduating from the program, the list of things you have to learn keeps growing.
I'm glad I decided to take the leap and make a career change. I hope my fellow veterans find the courage to do the same. Find something that you are truly passionate about and try to make a career out of it.