Divergence Career Services: Enabling Learner Success
As a transformative ecosystem for learners and employers, we're out to meet and exceed the demands of cybersecurity and data science in an increasingly competitive and ever-evolving landscape. As a result, where our academics department is focused on delivering the most up-to-date industry curriculum and materials, Dauphne Maple's Career Services team provides the ancillary support to bridge the transition from classroom to workplace.
Launched in June 2020, Career Services was developed with the mission to supply both current learners and Divergence Alumni with a dedicated channel of support and resources to become well-rounded and job-ready professionals. We sat down with Daphne to talk about how her team does exactly that and to discuss what future plans she has in mind.
Equipping Learners for Success
Serving as the backbone of Divergence Academy's wraparound services beyond content and curriculum, Dauphne's team provides career support to learners through multiple communication channels: from email to Microsoft Teams, and more commonly, via the Divergence Academy Help Center.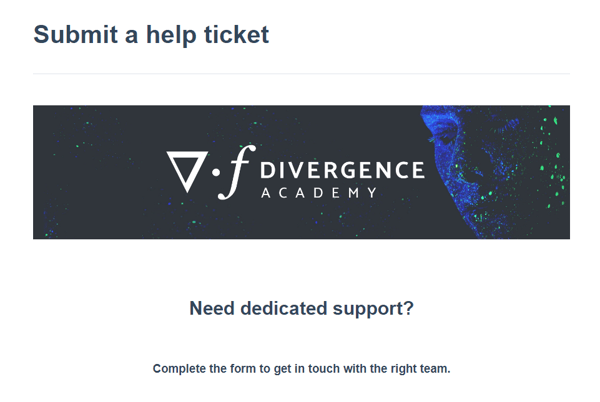 Learners can submit a help ticket through our website > Help Center.
"[We] review and respond to help tickets where people can ask for individual career support via a website form submission." These requests for one-on-one support cover a range of topics such as job search assistance, resume and cover letter prep, LinkedIn optimization, and interview coaching.
Additionally, Career Services also organizes workshops and events geared towards preparing students for their transition into the workforce. These workshops, Dauphne explains, are extensive discussions covering everything from job boards to what she refers to as the Job Shop Essential Skills series.
"We feel [that these skills] are fundamental for our students and alumni to conduct the most successful job searches possible and generate the most optimal job hiring outcomes." The workshop series covers four core topics: resume building and review, LinkedIn profile optimization, networking, and interview prep.
Resume Review
While resumes are a standard for any individual looking to land a job - it can be one of the trickiest documents to put together. "We can look at their resumes, make some suggested edits, and send those back to the students," Dauphne shares. "We also have written resources that give students information about what's called an Applicant Tracking System (ATS). Most job boards and even companies have this tracking system in place for when people go to fill out a resume."
Built to automatically extract information from resumes in order to build a digital profile, the software allows companies to search, filter, and rank hundreds (and even thousands) of resume submissions in order to fill key roles. This, in turn, streamlines hiring pipelines and enables compliance with the Equal Employment Opportunity Commission (EEOC).
However, the software does have limitations; and it is not unheard of for highly qualified applicants unfamiliar with ATS requirements to find their resumes wrongfully culled from the applicant pool. To ensure that learners and alumni optimize their resumes for ATS, Career Services offers professional guidance to help students avoid common pitfalls.
"What a lot of people aren't aware of, is that the ATS can really mess up people's resume formats if they aren't aware of how these tracking systems work. I always send them information gathered from various places on the internet just so they know what to expect."
When asked to expound more, Dauphne goes on to explain that "there's a difference in what we call a creative resume, [where] somebody might put their picture, or have icons, tables, and even more advanced formatting. But those resumes are only good if you're going to hand them to a live person, because an applicant tracking system will scramble that information."
Networking
In a 2019 national survey conducted by Jobvite, data shows that while online job boards continue to still be the most popular channel for job postings, more modern methods - such as social media - are gaining ground. "I believe the numbers were, 78% of jobs out there can be found through the hidden job network," Dauphne shares. "I think people don't realize that the vast majority of jobs are found through this market - they're not going to be posted on a job board."
As a result, Career Services has been actively promoting resources that are readily available to learners and alumni - such as the Divergence Academy Alumni Group Page on LinkedIn.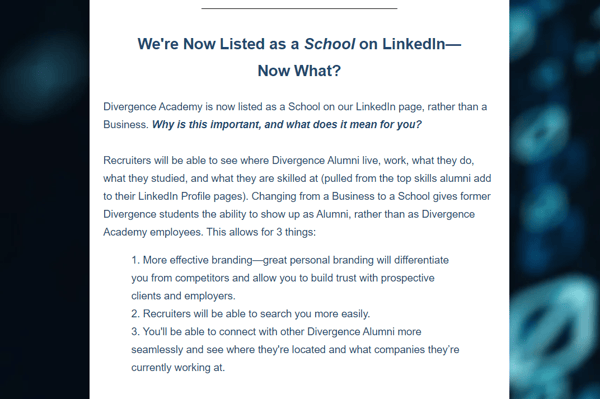 ATTN Learners: Top 3 reasons for adding "Divergence Academy" to the Education section of your LinkedIn profile
"I've got a little blurb about our LinkedIn alumni networking page, [and] we're trying to get people to stay in that group." Dauphne shares that it helps to inform students that these avenues exist. She also stresses that these are great alternatives to just scrolling through job boards. "In a lot of jobs, people get the job because they know somebody that knows the company is hiring for that position."
Building a strong network is crucial when searching for future jobs. Most people will have gone through many jobs and built multiple connections throughout their individual careers.
For learners and alumni, building those potential connections increases the chances of finding additional avenues for work. Within the halls of Divergence Academy, there have been a multitude of successful job placements that have come about from networking opportunities through our alumni and industry lunch & learn events.
Ultimately, by developing a network through their peers, learners can tap into the hidden job market that can either land their first job or help them move up the career ladder.
LinkedIn Profile Optimization
On a related note, Dauphne stresses that part of networking is understanding how crucial it is for students to flesh out and optimize their individual LinkedIn profiles. "In the past, a lot of people didn't use LinkedIn, so they didn't have a LinkedIn profile. But given today's job market, I consider having a LinkedIn profile essential."
As the largest business-oriented social networking site, LinkedIn is geared specifically towards professionals seeking online visibility. With over 500 million members globally across various industries, LinkedIn is considered a door-opener for opportunities in networks that professionals might not otherwise be aware of.
In an article by Career Sidekick, it's recommended that professionals have and maintain a LinkedIn profile even if they're not actively looking for a job. Functioning as a portfolio with built-in features such as recommendations from peers, LinkedIn allows professionals to research potential careers and allows top companies eyeing viable talent to find them online.
Interview Prep
There are, however, certain essential skills that Dauphne feels learners and alumni should leverage more. In this case, it's the interview sessions. "We're trying to encourage more students to take advantage of these mock interview sessions."

The mock interview sessions, Dauphne explains, are conducted via Connections, a custom video interface built out using the Symplicity platform. "[In these sessions], an interviewer will ask the student or alumni a pre-recorded question. The interviewee then has the option of recording their response in either audio or video format. We strongly encourage them to videotape themselves when answering these questions."
From there, the Career Services team reviews responses and sets up a one-on-one meeting to coach the student or alumni on best practice interview tips, tricks, and recommendations. "[We] talk to [them] about their body language, cadence, and tonal delivery, how they come across or can be perceived, and how they can best present themselves during an interview."
Expanding Career Support Horizons through Tech
When asked what was in store for the future of Career Services, Dauphne cites hopes of expanding the functionalities of the Symplicity Career Services Management tool (Connections) to include virtual career fairs. Currently, the tool provides learners with a means to create candidate profiles and upload resumes that Divergence's partner employers can review.
"On Fridays, we have what we call "Industry Day Lunch & Learns". That's when a employer representative - a recruiter, HR specialist, or someone from senior management - speaks to our students live on a recorded Microsoft Teams meeting about their company and culture, the different job opportunities available, and their veteran hiring program."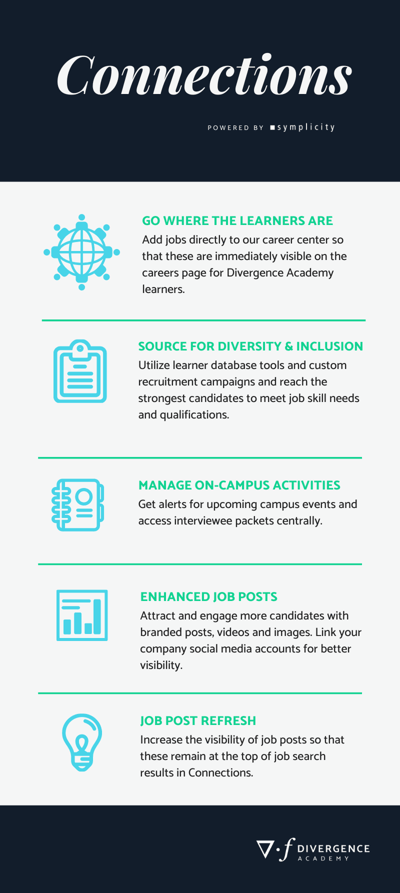 Preferred Employer Program benefits for our hiring partner employers
In the fully-realized version of Connections, Dauphne hopes that employer representatives will go into the tool and post jobs themselves. Employers can leverage the AI offered by this platform to diversify their pipeline and get direct access to talent that best fits their organization. Connections' functionality will allow partner employers to view student resumes and profile information whenever they need to seek out candidates. At present, the Career Services team takes care of the management of these postings. "If there is a job, I go [into the tool] and let the student and alumni population know that we have these jobs from a preferred employer."
"For instance, we had two different job descriptions that we put into Connections for Black Box - who recently did a Lunch & Learn with us. I let the students know about that, [and on their end] they can go into their Connections account, look at the job description and apply for the job."
Connections also helps her team understand how many of the current learner and alumni population are engaged in these job searches and where they need to intervene and help.
"[It] has metrics built into it, so we can see who went and looked at the job and how many times they opened it. It's useful for seeing which students are engaged and actively in job search mode."
Wrapping up our interview, we asked what impact Dauphne feels Career Services has had on Divergence learners and alumni: "I believe that Career Services has helped [them] not only be more prepared to carry out their job search, but understand all the different tools and methods at their disposal to find meaningful employment."
---
We are the leading vocational trade school for emerging tech, enabling you to transform the way you upgrade your teams with elite cloud, cybersecurity, and AI skills. Join leading companies and gain a competitive advantage. Reach out to us and become a preferred Divergence Academy partner today.