A Learner Success Story with Andres Peña Castaño
I decided to pivot career directions.
There are two big things in our family: Mathematics and Engineering. I was born and raised in Monterrey, Mexico before my family moved to the States. A couple of my relatives are Industrial and Civil Engineers, and I have an uncle who owns a construction company. The engineer route always felt like a path that was paved for me. Since I was little, I knew I wanted a career in something that had to do with math. That's why I pursued civil engineering at The University of Texas at Austin (UT).
After graduating in 2015, I went on to work in construction as a project manager for 3 years. While there, I figured out that the career path I was on was not something I wanted to do in the long term. I didn't want to just stick with project management.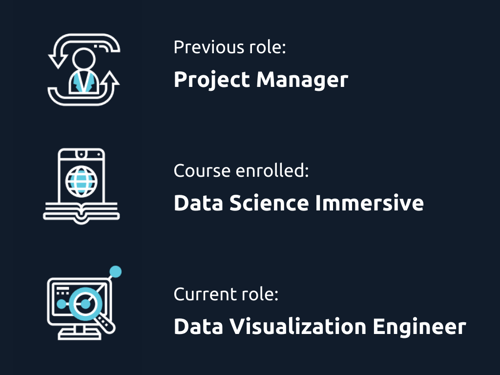 Understanding that the world was growing more dependent on computers and technology, I wanted to do something more technical and technology-oriented. Having realized that I wanted to pursue something in the tech industry, I started looking at different career paths including data science. It was a growing field and I could see myself fitting into it really well.
I started taking community college courses in Austin after work and on weekends, focusing on mathematics and programming languages like Python and C++. However, I realized that the university degree path that I was on was not the most convenient for someone who was already 27, 28 at the time. It was going to take me several years to gain the skill set that I hoped to achieve, so I decided to look into boot camps that could help me achieve the same thing.
At the time, I also met my soon-to-be wife who was living in Dallas. Since I was commuting back and forth almost every weekend, I began thinking, "Why not look for something within Dallas?"
Divergence was a great fit.
I found Divergence via one of the websites that listed the different kinds of available boot camps. While there were a lot of options that offered online classes, I chose Divergence mainly because it was an in-person boot camp and I felt that I would do better with in-person learning.

I took the weekend classes for Data Science Immersive (DSI) which started in Aug 2019 and ended in Jan 2020. We delved into different topics like Power BI, SQL, and AWS. I really enjoyed the fact that we had different subject matter experts teach the different topics. It was good to see that there were different instructors sharing their expertise on the different aspects of the course, as opposed to having only one instructor teaching the whole spectrum.

Another thing that contributed to why I had such a great time with the course is how easy it was to build connections with the professors. Coming from a big university like UT Austin, where you take classes with 200 other people, a Divergence class with 6 to 10 people made it possible for us to have that one-on-one contact with each and every instructor. Our small class size also helped to build camaraderie between students -- some members of my class are people who I remain good friends with to this day.
We were provided with great resources that I continue to use.
I cannot emphasize enough how invaluable our instructors were. The DSI bootcamp is very streamlined and intense as far as the workload goes. As a first-time learner on any new subject in a fast-paced, bootcamp environment, you're having to find time to do the actual class assignments while playing catch-up in the areas you don't quite understand.

Fortunately, we had really good resources— books that I still use for my current line of work—and the instructors were always available to clarify and answer questions.

During weekdays, I also made it a point to visit the Academy even if I didn't have classes because it helped me focus and hone in on my practice. During the time I spent there, career opportunities came up. Vish (Viswanath Puttagunta, Data Science Instructor) played a huge role when it came to placing me with a job.

He helped set up an interview with my current employer, Susan G. Komen and supported me through the entire interview process.
I was able to land a job as a Data Visualization Engineer.
Being new to the industry, I had no idea what I was getting into. I really appreciated that, even post-hire, I was able to count on Divergence for support. Having Sravan and Vish on hand to answer questions on job-relevant topics, like SQL and how to work on a SQL server, proved to be invaluable.
The knowledge I gained from Divergence has been useful in my current job as a Data Visualization Engineer.
Divergence equipped me with the necessary foundations for SQL and Power BI, which I use in my day-to-day work with Susan G. Komen. My job, overall, is to make it easier for stakeholders to gain insight on the data available. As an example, our race walk team handles all our non-profit revenue. They organize these fundraising races and events where people sign up, and their main challenge was that there was a black hole when it came to reporting for revenue.

While the day-to-day work can vary, for this kind of project, I usually meet with one of our stakeholders and gather information on the data that they need to see. Once I have this information, I proceed with writing out some queries on our SQL server, because that's where our data is stored.

We also have data on a website called Convio that handles our revenue and registrations. Once I sort out the details from these data sources, I pull them all into the Power BI tool and transform the data for better insights.

On a day-to-day basis, I have a pipeline of reports that need to be built so I mostly work from that. I work on ad hoc data analysis. When people have questions about how many people have donated over the last four years, I'm the guy they tap for that data.
Divergence helped me learn what I'm good at and what I want to develop.
My biggest takeaway from enrolling at Divergence and taking up the DSI program is that there are a ton of paths you can take. While it can be difficult at first to decide on what you want to do, you gain a better understanding of where your strengths lie just by sheer exposure.
The DSI program exposed me to the different facets of data science and as a result, allowed me to discover what was best suited for me. There's Power BI where you can focus on data visualization. You also have AWS which can give you a jumpstart if you want to get into IT. We also started SQL where you can become a data engineer.
Personally, I understood that I was good with data visualization, and I was really good with Power BI, so going down the path of a data visualization engineer made sense. In the long run, I want to become a machine learning engineer—something I've been working on, on the side.
The fact that we studied so many subjects in the DSI program gave me insight into the various career options within the industry, as well as helped me identify what I was good at and what I wanted to work towards.
Keep an open mind to all the possibilities.
One of the biggest pointers I can provide for new learners coming into the DSI course is to just keep an open mind to all the possibilities. Data science is such a vast field. It's understandable if you get overwhelmed with all the different avenues you can take. Try to find what you're good at, what you enjoy, and keep working on it.
The technology industry is constantly evolving and quickly changing, so it's easy to fall behind if you don't keep up. You have to be open to continuous learning and just enjoy the ride. It's fun!