What Being a CompTIA Authorized Partner Means for Learners
Last April 2020, the Computing Technology Industry Association (CompTIA) launched a series of YouTube live sessions to answer IT career questions. During their seventh live show, a listener asked via chat if their certifications are enough for those looking to make a mid-life career switch. While the short answer would have been a resounding yes, Chief Technology Evangelist James Stanger chose to offer a story instead:
A few years ago, Stanger met an Englishman who, having spent 17 years in the Royal Navy, was looking to transition into cybersecurity. Rather than enrolling for a 4-year Computer Science degree, he chose to leverage his decade-long experience, took certifications, and gradually switched to an IT career.
To summarize this anecdote, Stanger assured listeners that no one has to be a math genius or hold a bachelor's degree to become a great IT specialist. As a vocational tech trade school for people interested in starting or switching to an IT career, Divergence Academy holds the same beliefs.


Fostering a partnership we believe in
Aligning ourselves with the values that CompTIA espouses on advancing the needs of the IT industry, we begin with the end goal in mind. Our training delivery model is largely fashioned and guided by our relentless pursuit to keep these two priorities at the forefront: vocational readiness and market relevance.
Beyond providing the requisite knowledge and skills for our learners to succeed in the workplace, vocational readiness, to us, means preparing them with the attitudes and behaviors to assist with personal and professional growth on-the-job. Market relevance keeps our curriculum design methodology on an agile 90-day product development lifecycle, so our learners are gleaning the most up-to-date industry knowledge, tips, and tricks.
At Divergence Academy, we aim to support the development of foundational skills needed for a career in cybersecurity through the following CompTIA certifications: Network+ and Security+. As an Authorized Partner, this approach allows us the freedom to decide what content we want to include from CompTIA's robust training materials.
If learners want to become a network administrator or analyst, they take Network Foundations (Network+) to establish strong fundamentals in IT. In this collection of courses, the goal is to build familiarity with networking devices, cloud computing, and software technologies, and become Linux and Unix tools experts.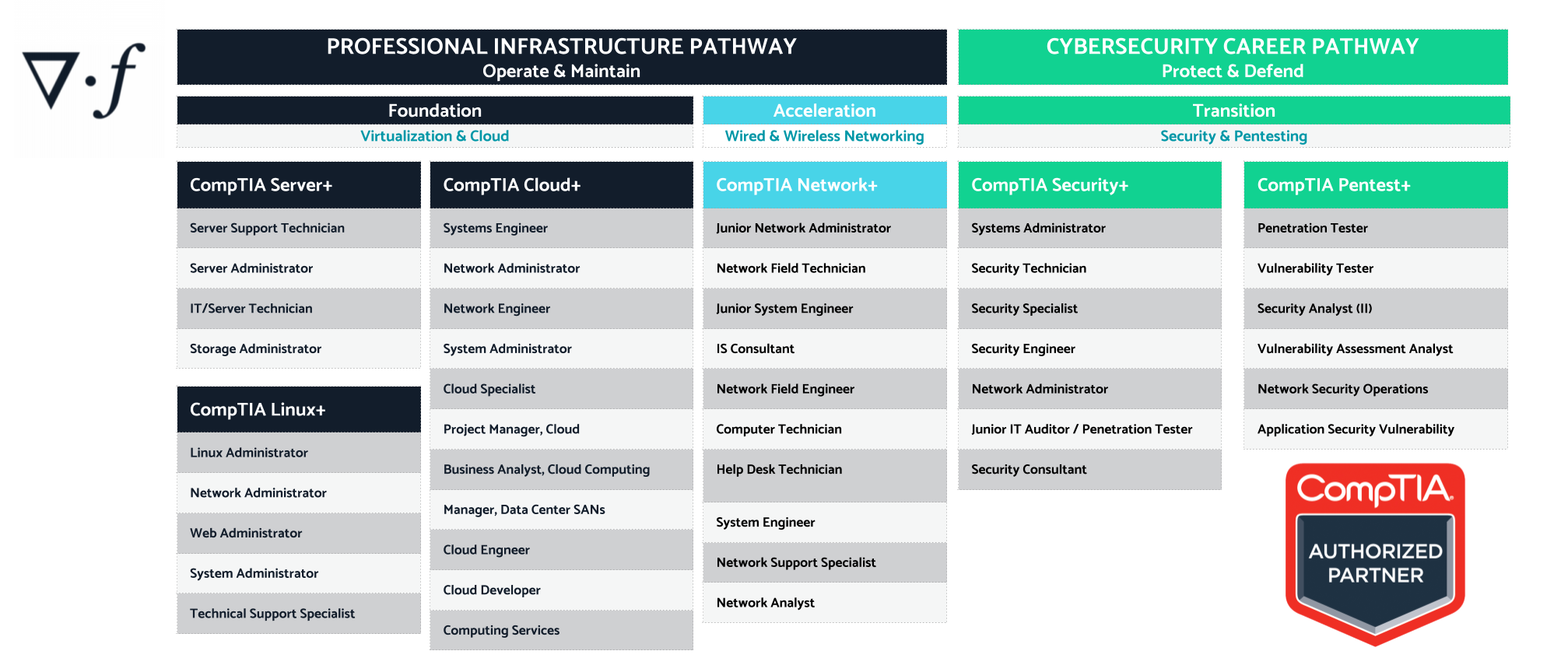 Possible career pathways categorized by CompTIA certifications
As they advance in their knowledge, they can then move into the Security Necessities (Security+) courses which require advanced knowledge in IT. Here, learners are set up to master a variety of threat detection tools, learn behavioral analytics, and create hacker-proof security solutions.
"Security+ is compliant with ISO 17024 standards and approved by the US DoD to meet directive 8140/8570.01-M requirements. Regulators and government rely on ANSI accreditation, because it provides confidence and trust in the outputs of an accredited program."
Having recently transitioned to sourcing most of our training materials from CompTIA, these materials go beyond being necessities for class. They also serve as guides for learners to make well-informed decisions in their future IT careers. At Divergence Academy, the content delivery of our Cybersecurity Penetration Tester course can be broken into lecture slides, recorded sessions, curated video series, and printed materials to encourage our learners to explore and select the best mix of content mediums for their individualized learning pathway.
With the number of CompTIA certifications serving as requirements at established Fortune 500 companies such as Dell, HP, and Intel as well as small and medium-sized tech businesses, earning CompTIA's badge of honor helps resumes stand out — with or without that college degree. As the tech landscape continues to rapidly change, it's important to note that learners ought to re-certify with updated certification versions in order to stay market-competitive and industry-relevant.


Casting a brighter light on CompTIA
As one of IT's top trade associations, CompTIA's core focus is to promote industry growth by sharing materials, certifications, and research to develop the workforce. Since 1993, they have issued more than 2 million certifications through their various courses.
In 2018, the CompTIA Infrastructure Career Pathway was established to help IT professionals enroll into the right courses to build upon a specific skill set.
Core Certifications
Learners who are advanced end users and / or considering a career in IT can assess their skills and knowledge through these four IT certifications: IT Fundamentals (ITF+), A+, Network+, and Security+. From understanding tech concepts and practices organizations use today to confidently designing, configuring, managing, and troubleshooting any wired or wireless device, these IT certifications will test different knowledge standards — from entry-level to expert.
Infrastructure Certifications
CompTIA created this pathway for learners who have passed the Network+ certification and desire to expand their knowledge on networking technologies, security, installation, troubleshooting —anything that involves handling or maintaining a wired or wireless network device.
Cybersecurity Certifications
CompTIA also has a pathway for IT practitioners who want to improve on their cybersecurity skills and techniques, design and implement security solutions, and conduct penetration and vulnerability testing. Anyone who wants to build on any information they already have on security can pursue this course.
Additional Professional Certifications
There are also certifications that do not necessarily fit into the aforementioned pathways. Project+ allows learners to build on their project management skills when working in a tech company. Cloud Essentials caters to those who want to learn more about cloud computing and cloud storage. Lastly, CTT+ is a course for learners who are interested in becoming technical trainers, which are crucial in an industry that is all about continuous growth.
Creating a viable career path
We believe our learners benefit the most from resources that support them as they determine their career paths. Given that the quality of material delivered by CompTIA best reflects the latest research and industry trends, learners who take the course receive the most up-to-date information — one of the key reasons why we decided to become a CompTIA Authorized Partner.
Their extensive repository of resources serves as an invaluable reference library for our learners. The materials and certification exams provide novices and professionals broader perspectives and practical applications that transfer to real-world, on-the-job challenges. As the IT industry evolves and opportunities for careers expand, we look forward to watching the transition into tech become even more accessible, thanks to the work of CompTIA and other trade associations.
---
We accelerate positive transformation for our learners, our employers, our partners, and our people. At Divergence Academy, we strive to set the highest standards in deep learning, allowing your company to shift accountability for success to our shoulders rather than yours. Rest easy, our learners receive up-to-date vocational training from working industry veterans and industry standard certifications from the world's leading tech association. Learn more about our courses or talk to a member of our team today!