A Veteran Success Story with Angelica Ambrose
I wanted to take a step back and reassess where I wanted to go.
As a US Army Veteran from San Diego, California, I initially enlisted with the intention to do a full 20 years with the military. However, because of life circumstances and as a mother of two girls, I came to a point where I found myself taking a step back because I thought it best to figure out what I wanted out of my career.
In the service, I was a neural networks system maintainer and operator. In layman's terms, that refers to computer networking. For most of my job, I worked in an air defense unit handling communications for things like launchers. This just means that I was tasked to ensure that information was received accurately through at least two lines of communication.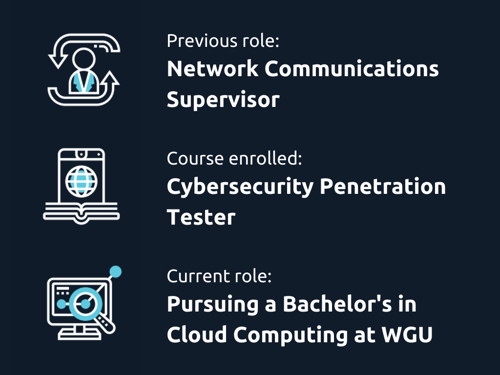 I learned about Divergence Academy after attending a brief. I learned that because there's not a lot of women in IT, it's an avenue that could be great for me if I looked into it. They also let me know that because I'm a veteran, I have skills that are in demand in the industry. And if I combined those skills with what I would learn in Divergence Academy's programs, that would help me a lot once I got out of service to find a job.
So, I took a step back and thought about it. I looked up Divergence Academy to learn a bit more about how I could apply as a Learner and what that would mean for me in terms of commitment. From there, I got motivated to learn more about networking because now I want to know more about securing my own home and be proactive with security—you just don't know what's out there.
One of the reasons I decided to join Divergence Academy was because of the realization that there was more than just networking—there was also cyber and cloud.
When I was going to school, networking wasn't talked about that much. But I had a conversation with an instructor of mine about what was then the precursor to what we know today as the cloud. While I couldn't envision it at the time, that conversation ultimately put me on the path to completing the Cybersecurity Penetration Tester bootcamp.
From there, I discovered my interest in Cloud Computing. I am actually pursuing a Bachelor's in Cloud Computing to learn more about the technology. I plan to take what I learned here at Divergence Academy about securing those networks and then combine that with the cloud.
Divergence was prepared to support students like myself given the challenges brought on by the pandemic.
I'm really thankful for Divergence for being on top of everything. I was enrolled in the class that started right after the pandemic, and at that time, I was concerned about not being able to go onto campus and what that would mean for my learning journey.
There was a lot of doubt at first, and I did ask myself: "What if I'm not able to pick up the knowledge I need? Or what if I'm not satisfied with the program?" By the end of the course, I had no doubt.
Divergence was prepared to support Learners like myself, who needed remote access. We all received the necessary support for us to learn, and this came in the form of online hacking games and mentorship from the instructors.
I'd personally like to say a big shout-out to E-z Ear, who took the time to break down the command line, line-by-line. Because of that, I learned to ask questions. I gained the confidence to look look at what I was learning and reflect on whether this was a valuable piece of information and what I could do with that valuable piece of information. It was an environment that encouraged active participation so that we could gain better insights and move away from memorization into applying what we understood to situations that were true to life.
I'm very excited to see how Divergence expands moving forward. In fact, I tell everyone I meet about my experience as a Learner from Divergence and how it's given me the confidence to pursue what I want to pursue.
Life after Divergence Academy was a breath of fresh air. I wasn't intimidated anymore.
Coming from the military, I was told that doors would open for me in the kind of work I wanted to do once I took my Security+ certification. But the first time I took the exam, I didn't feel prepared. And because of that, I started to wonder if this route was the one that I should be taking. I honestly thought that maybe I wasn't as good as I thought I was.
But after going through all the courses at Divergence, gaining all the information I needed, and getting all the hands-on training that I felt like I was missing from before, those doors did open.
Pentesting is great and it is something that I do want to get into. However, what appeals to me more is the cloud. And I am inspired daily by the knowledge that there are dozens of different career pathways out there available to me.
Studying at Divergence really helped me pinpoint where I want to go next. They helped me lay down a good foundation for my IT career and because of that I was able to pass my Security+. Now I just feel like I can do it all. Life after Divergence was a lot less stressful.
I've also started applying what I've learned to my personal spaces. I learned how to secure my own router at home, because security is everything at this point.
A lot of career opportunities have opened up since graduating from Divergence Academy. I've done multiple interviews but have not taken any offers due to location. I'm looking at my options to find the best one for me and my girls.
If you have an idea of what you would like to be in the IT space - just go for it.
Wanting to pursue something is like getting a little seed planted in your mind. You have to trust that it will grow.
If you're someone who wants to get into IT, you should know that there are a lot of offers and different options out there for you. What's great is that Divergence Academy will not only help you decide on where you want to go, they will help you become confident in what you are going to learn and what you are going to need when you take on a role in that line of work.